IT is critical in all business activities, from online banking to social media. Businesses and consumers need IT for work and convenience. As a result, there is a growing need for IT specialists. 
In the U.S. alone, IT jobs will grow 12% from 2018 to 2028. the spending on Information Technology is expected to hit $3.8 trillion. The figure will increase further the following year, reaching over $3.9 trillion — about $4 trillion will be spent on IT alone. 
Canada's unemployment rate is at a record low of 5.1%, resulting in severe labor shortages. Open positions are more than 80% higher than they were pre-pandemic.
That being said, you need to be quick and strategic when hiring IT personnel. There is a high demand for IT experts, and employers are competing for top talents. The average time to fill a position is 42 days. During that span, top talent may accept an offer somewhere. If your company needs to hire IT staff, it's best to get on it ASAP. 
Here's a guide on How to Hire IT Staff for Your Company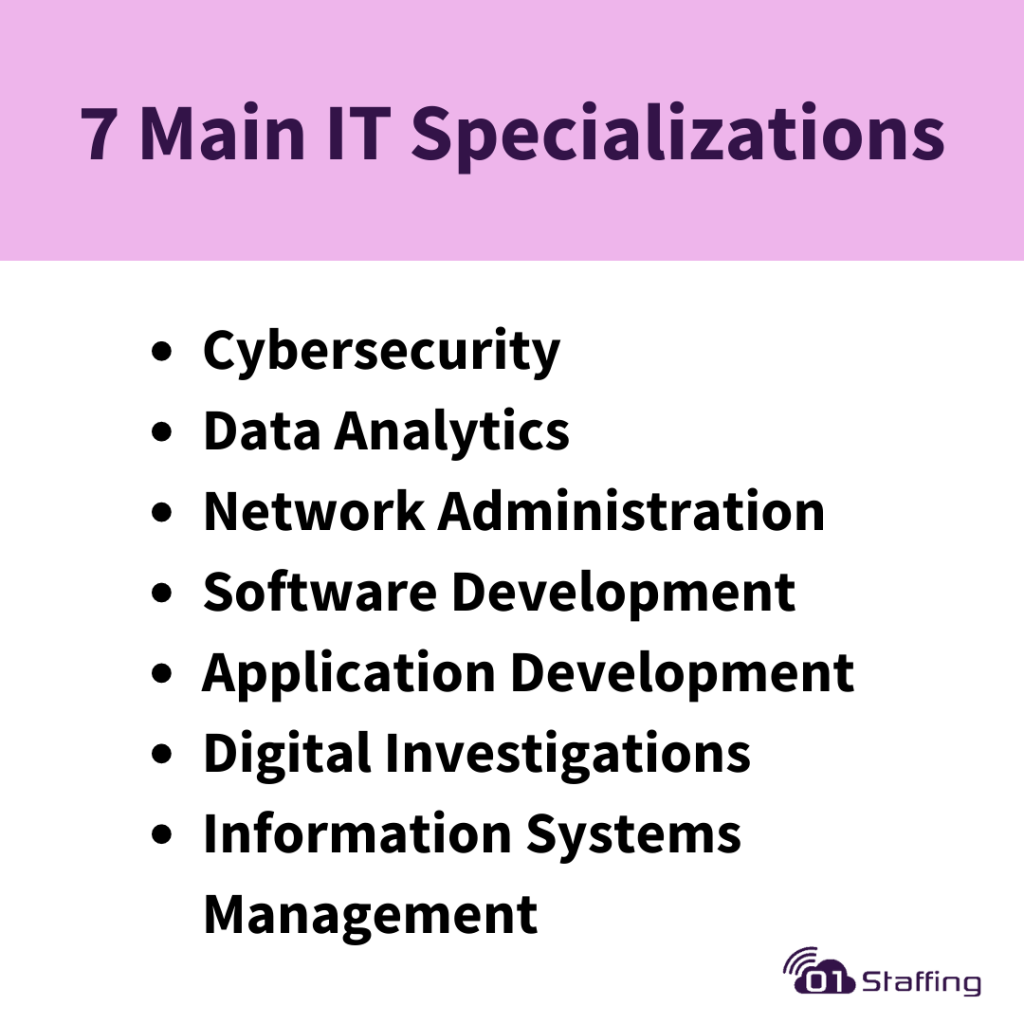 Determine Your Business' Specific IT Requirements
Determine the specialization and the level of expertise you need. 
The seven main IT specializations are:
Cybersecurity

Data Analytics

Network Administration

Software Development

Application Development

Digital Investigations

Information systems management
Also, decide on the level of expertise you need. Do you need a team member, a specialist, or an expert?
Decide on the Terms of the Contract
With 01 Staffing, there are three ways to get IT workforce.
Temporary Staffing
These are on-demand IT staff available on short notice to augment your current team or handle temporary assignments. 
Contract Staffing
You can hire specialists or experts for specific projects. They can be on your company's payroll or will 01 Staffing. 
Employees
You can hire employees that will become an organic part of your organization. They form your company culture and will be the backbone of your organization to manage any additional workforce you hire. 
When hiring employees, it's essential to do background checks and personality assessments to understand culture fit and culture add. 
An ideal hire should have a specialization and base knowledge of a few other IT domains so that they can help your organization in the long run. 
Create a List of Questions to Ask Candidates
There are a few sets of questions to ask future employees.
Job-Specific Questions to Ask Candidates
These questions relate to one or more of the seven main IT specializations. This helps you determine if applicants can do the stuff they said they can.
Working Style Questions
-Do they prefer working alone or working in a team?
-What is their ideal superior?
-Are they a specialist or a generalist?
-How do they see themselves five years from now.
Culture Fit Questions
These are questions unique to your organization. 
-Does your organization have monthly company parties? Ask applicants if they like to socialize with colleagues.
-Do you have sudden projects that need to be prioritized all of a sudden? Ask applicants how they handle multi-tasking.
Personal Preference Questions
-Ask the applicants where they live and whether they prefer working remotely or in the office. 
Read the Entire Resume
Scan the entire resume and highlight skills, experiences, and certificates that align with your opening. 
Also, look at how they present themselves professionally, organize information, and prioritize achievements related to your opening.
Look at their previous employments, what responsibilities they've taken on, and what their initiatives are to help the organization. 
Prioritize Candidates with a Stand out Resume
While some people are desperate to get jobs, others regard interviews as a two-way process. They are confident with their skills and use interviews to get to know your organization. 
Look for candidates with initiatives to help the organization. Where they able to:
-save money by introducing efficient systems
-introduce new technologies which benefit the organization
-fix bugs that threatened the system
-have been part of teams that produce profitable projects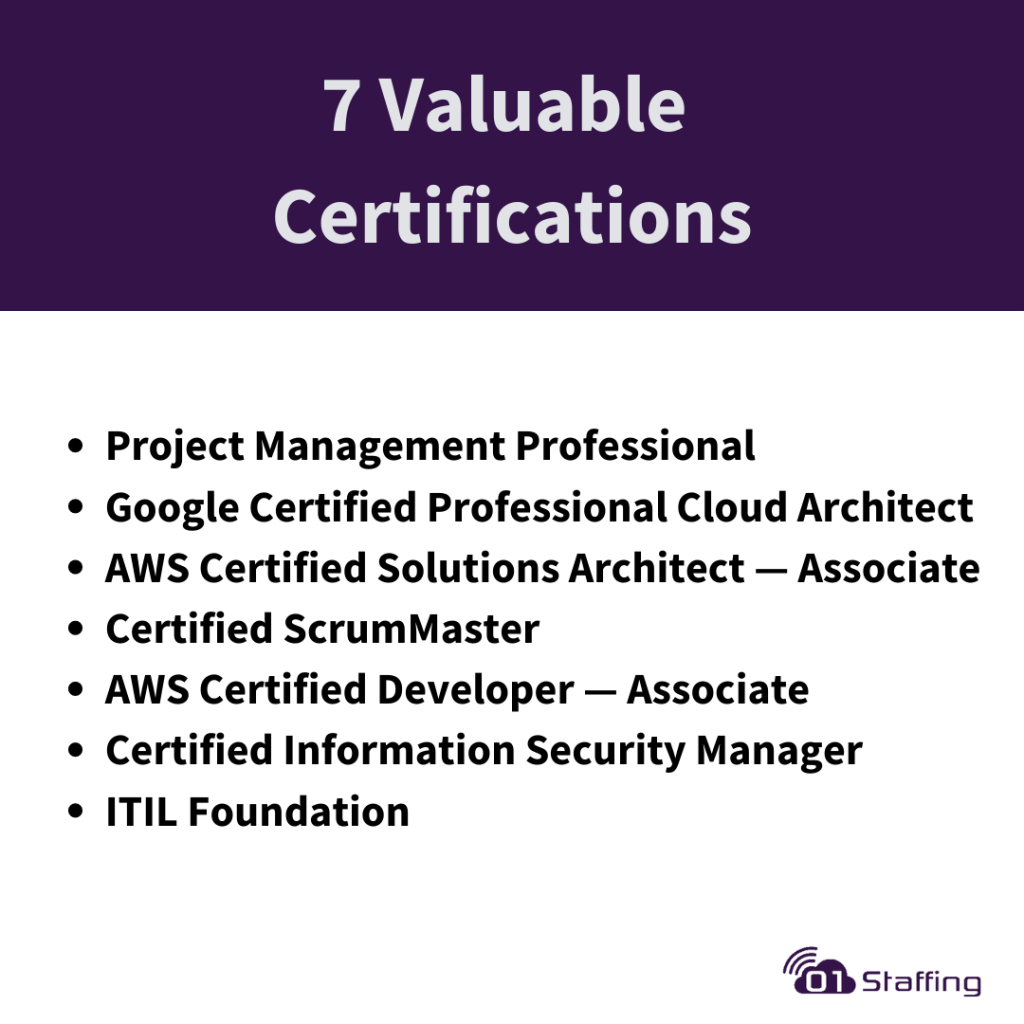 Pay Attention to Each Candidate's Certifications
Make a note of the system your and your clients are using and look for candidates with matching certifications.
Candidates who regularly get new certifications affirm their commitment to get ahead in the IT Industry. 
If your company relies on Microsoft products, prioritize Microsoft certifications. These include the Microsoft Certified Technology Specialist and MS IT Professional certifications.
7 Valuable IT Certifications
-Project Management Professional
-Google Certified Professional Cloud Architect
-AWS Certified Solutions Architect — Associate
-Certified ScrumMaster
-AWS Certified Developer — Associate
-Certified Information Security Manager
-ITIL Foundation
Look into their Communication Skills
Perfect hires are hard to find. However, you can grow a well-balanced team with team members, experts, specialists, and a few people who can communicate well, foster understanding within the team, and cater to clients. 
To look into your applicant's communication skills, try asking them to explain a previous project to a client. 
Look into Candidates with People Skills
A happy workplace inspires everyone to do their best.
Everyone should be able to conduct themselves professionally, initiate queries respectfully, and never insult a coworker on a personal level.
You'll also need a few leaders who can foster collaborations seamlessly and encourage everyone else. 
Problem solvers and people with initiative make great hires. 
—
01 Staffing is a team of seasoned IT Experts that hires and assesses top talents in the seven main IT specializations, including Cybersecurity, Data Analytics, Network Administration, Software Development, Application Development, Digital Investigations, and Information systems management. Contact Us